International Space Station EVA-62 a Success
JAN. 15, 2020–The second all-female spacewalk by NASA astronauts Christina Koch and Jessica Meir conducted this morning was a great success, with all primary tasks and get-ahead tasks accomplished.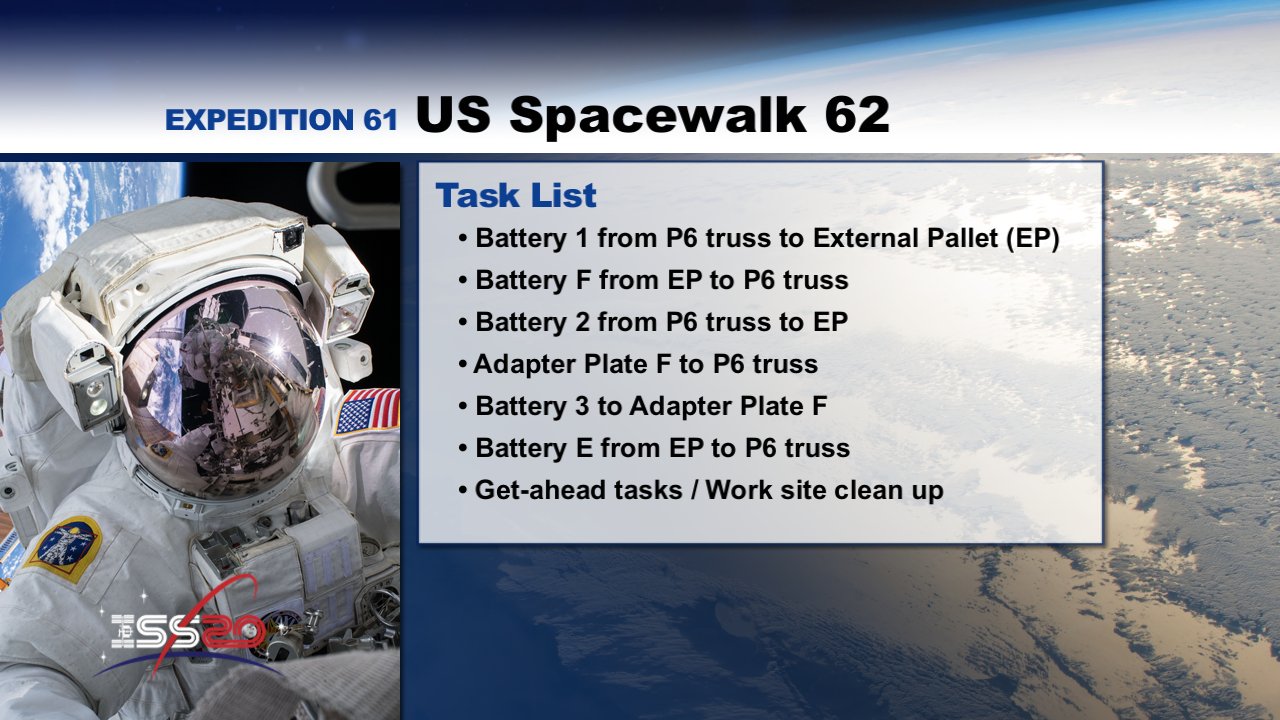 This morning at 6:50 a.m. ET (3:50 a.m. PT, 11:50 UTC), astronauts Christina Koch and Jessica Meir embarked on the 62nd USA spacewalk from the Quest airlock. They were tasked with six tasks that mainly involved replacing batteries on the P6 station truss.
Following a minor anomaly at EVA + 51:30, where Koch's' helmet camera broke loose and had to be stowed, the first task of the over 7 hour spacewalk was completed at EVA+ 1:44:00 (8:34 a.m. ET), as a Ni-MH battery was replaced with a Li-Ion battery, akin to those in cell phones and laptops.
The spacewalk was completed at EVA+ 7:29:00, 2:04 p.m. ET. All six primary tasks were completed plus an extra get-ahead task, relocating an additional Ni-MH battery to an external pallet to prepare for EVA-63 on January 20.
This is the first spacewalk of 2020, Meir's second spacewalk (for a total of 14 hr 46 min), and Koch's fifth (for a total of 35 hr 17 min). Koch and Meir are the flight engineers of Expedition 61.
The pair will venture out again for EVA-63, scheduled for next Monday, for another Ni-MH to Li-Ion replacement spacewalk. Also on January 20 is the third Starlink launch.
NASA MESSAGE: Learn more about station activities by following the space station blog, @space_station and @ISS_Research on Twitter as well as the ISS Facebook and ISS Instagram accounts.