The Final Week: SpaceX Prepares for Their First Crewed Flight
MAY 24, 2020– A decade ago, with the impending cancellation of the Space Shuttle Program looming over the United States, NASA began the Commercial Crew Program in an attempt to find a commercial replacement for Space Shuttle. The program awarded contracts to Boeing and SpaceX to develop two private commercial spacecraft capable of carrying NASA astronauts to the International Space Station.
The Commercial Crew program saw its ups and downs, delays and failures, and hardships. However, after ten years, we are now less than a week away from seeing two astronauts, Bob Behnken and Doug Hurley, fly to the International Space Station on SpaceX's crew-rated Dragon 2 spacecraft. SpaceX and NASA are hard at work preparing for this historic launch, which is the first launch of a crewed American spacecraft since Space Shuttle Atlantis's last flight more than nine years ago.
Last Monday the Dragon 2 spacecraft that will fly on the upcoming Demo Mission 2, or DM-2 mission arrived at SpaceX's LC-39A integration hangar. Just three days later, the spacecraft rolled out on a Falcon 9 rocket and began its journey to the pad.
After arriving at LC-39A, the rocket was raised to a vertical position and was readied for final preparations in what is known as the Flight Readiness Review or FRR. The FRR began May 22, and lasted a day and a half.
The review, which was supposed to be headed by Doug Loverro (who suddenly left the administration) was headed by Associate Administrator Steve Jurczyk, who stated: "We had a very successful flight readiness review, in that we did a thorough review of all of the systems and all the risks, and it was unanimous on the board that we are go for launch."
With the completion of the FRR, Dragon 2/Crew Dragon became the first spacecraft to be human-rated in over 40 years, the last being the Space Shuttle in 1981.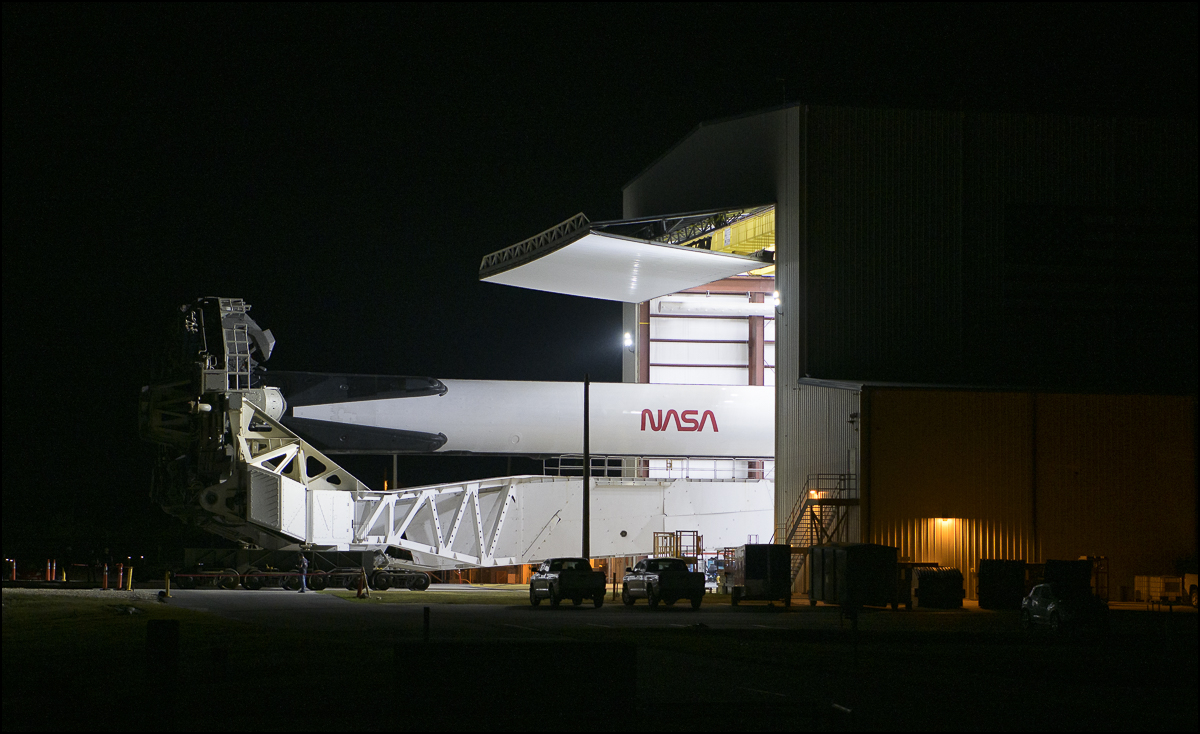 SpaceX has since completed a static fire of the Falcon 9 first stage. They also performed a dress rehearsal of launch day procedures with astronauts Bob Behnken and Doug Hurley, who arrived at Kennedy Space Center last Wednesday.
Both NASA and SpaceX are ready to launch American astronauts on American rockets from American soil next Wednesday, as long as weather permits. The launch is currently only 40% GO due to violations of multiple weather rules. A backup date is available on May 30, in case the May 27 date does not work out.
This is Space Scout coverage of the DM-2 Launch America mission at T- 2 days, 20 hours. 
Go Crew Dragon, Go Bob Benkhen and Doug Hurley, and Go SpaceX!