Crew-1: What to expect for SpaceX's first operational crew flight
NOV. 15, 2020–With just hours remaining to the launch of the first operational Commercial Crew mission, Crew-1, excitement is running high. The Cape Canaveral area is expecting over 250,000 visitors to watch the launch in person and millions will be watching from home. As done with the last Commercial Crew mission, DM-2, we've again compiled some information as a guide to the mission to help you get the best experience out of watching it. NASA TV and SpaceX will be airing the launch on their respective channels, with coverage beginning at 3:15 p.m. EST., approximately four and a half hours before launch.
If you're watching the launch in person, expect little to no cellular coverage as over 500,000 people, combining both locals and visitors, are expected to show up. The webcast will not work, so to keep up with the launch, NASA has a number you can dial-in to listen to either audio-only NASA TV coverage or simply the countdown net. These numbers are 321-867-1220 (try 1240 or 1260 if this doesn't work) and 321-867-7135 respectively. These work for every NASA launch.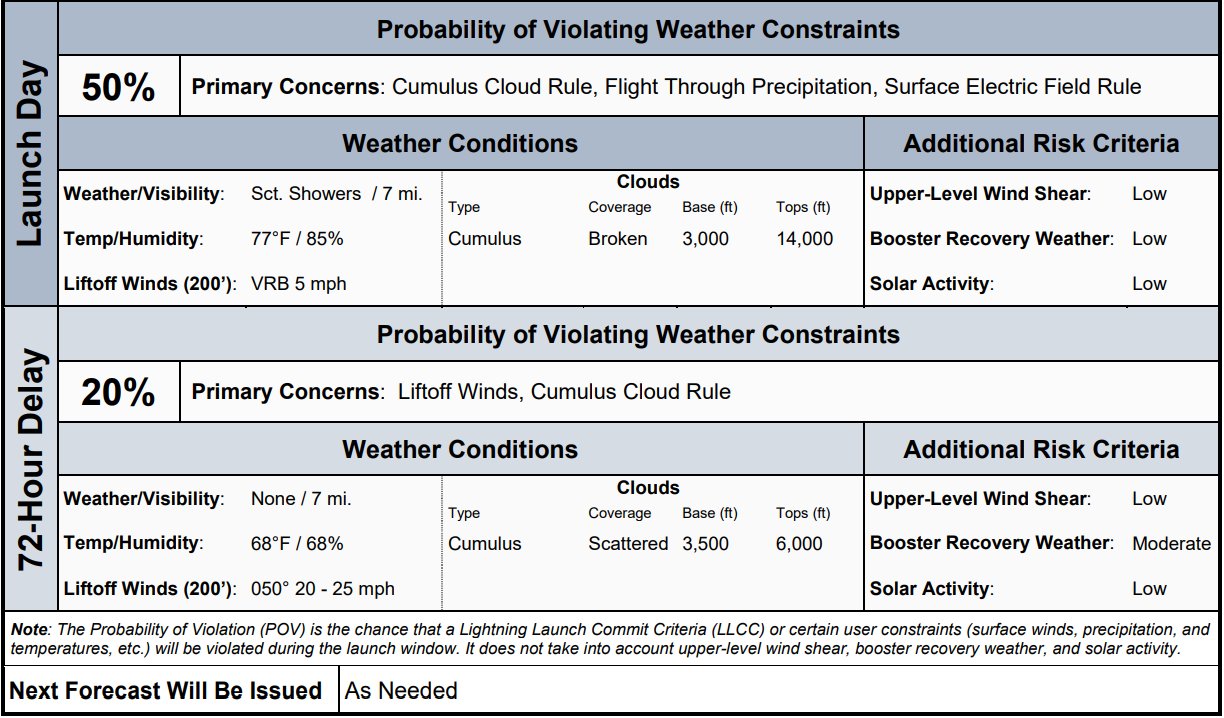 The launch itself is scheduled for 7:27 p.m. EST, today, November 15. At this time, everything is go for launch, barring the weather. There is only a 50% chance of a launch tomorrow, with the main weather concerns being flight through precipitation and surface electric fields (also known as lightning possibility). The following forecast is provided by the 45th Weather Squadron:
On the listed backup date, November 18, there is currently an 80% chance of favorable conditions. A secondary backup date is not known yet.
If Crew-1 does clear weather constraints tomorrow, this will be the full timeline of launch day:
[Click to expand – Crew-1 launch timeline]
T- 04:15:00 – First weather brief
T- 04:05:00 – Crew handoff
T- 04:00:00 – Suit donning and checkouts
T- 03:22:00 – Crew walkout from Neil Armstrong Operations and Checkout Building
T- 03:15:00 – Crew transportation to Launch Complex 39A
T- 02:55:00 – Crew arrives at pad
T- 02:35:00 – Crew ingress
T- 02:20:00 – Communication check
T- 02:15:00 – Verify ready for seat rotation
T- 02:14:00 – Suit leak checks
T- 01:55:00 – Hatch close
T- 00:45:00 – Final weather brief and SpaceX Launch Director verifies go for propellant load
T- 00:42:00 – Crew access arm retracts
T- 00:37:00 – Dragon launch escape system armed
T- 00:35:00 – RP-1 on both stages and LOX loading on the first stage begins
T- 00:16:00 – 2nd stage LOX loading begins
T- 00:07:00 – Falcon 9 begins engine chill prior to launch
T- 00:05:00 – Dragon transitions to internal power
T- 00:01:00 – Flight computer begins final prelaunch checks and propellant tank pressurization begins
T- 00:00:45 – SpaceX Launch Director verifies go for launch
T- 00:00:03 – Ignition sequence start
T 00:00:00 – Liftoff at 7:27:17 p.m. of Crew Dragon Resilience
T+ 00:00:58 – Max Q (peak mechanical stress)
T+ 00:02:37 – First stage engine cutoff (MECO)
T+ 00:02:40 – 1st and 2nd stages separate
T+ 00:02:48 – 2nd stage engine startup (SES-1)
T+ 00:07:29 – 1st stage entry burn
T+ 00:08:50 – 2nd stage engine cutoff (SECO-1)
T+ 00:08:59 – 1st stage landing burn
T+ 00:09:29 – 1st stage landing
T+ 00:12:03 – Crew Dragon separates from 2nd stage
T+ 00:12:48 – Dragon nosecone open sequence begins

At 9:30 p.m., NASA and SpaceX will hold a post-launch news conference, live-streamed. Coverage will be continuous through docking at around 11 p.m. on Monday, November 16. The welcoming ceremony will occur at 1:40 a.m. Tuesday, and finally, the post-docking news conference co-hosted by NASA and JAXA will take place at 2 a.m. EST.
[Click to expand – Condensed post-launch timeline]
All times EST. Burn timelines taken from NASASpaceFlight.
T+ 00:00:00 – Nov. 15 – 7:27:17 p.m. – Launch
T+ 00:45:42 – Nov. 15 – 8:13:00 p.m. – Phase burn (573 sec., 53.8 m/s)
T+ 02:02:00 – Nov. 15 – 9:30 p.m. – Post-launch news conference
T+ 15:53:39 – Nov. 16 – 11:20:57 a.m. – Boost burn (97 sec., 9.02 m/s)
T+ 16:35:25 – Nov. 16 – 12:02:43 p.m. – Close burn (602 sec., 57.7 m/s)
T+ 22:18:05 – Nov. 16 – 5:45:22 p.m. – Transfer burn (44 sec., 3 m/s)
T+ 23:04:33 – Nov. 16 – 6:31:51 p.m. – Co-elliptic burn (34 sec., 2.37m/s)
T+ 25:02:32 – Nov. 16 – 7:30:09 p.m. – Approach OOP burn (33 sec., 0.54 m/s) – 20 km from ISS
T+ 26:02:42 – Nov. 16 – 9:30:00 p.m. – AI-burn (90 sec., 0.72 m/s) – 7.5 km from ISS
T+ 26:35:12 – Nov. 16 – 10:02:30 p.m. – 1 kilometer from ISS
T+ 27:23:42 – Nov. 16 – 10:51:00 p.m. – Go / No Go for Docking
T+ 27:32:42 – Nov. 16 – 11:00:00 p.m. – Contact
T+ 30:13:00 – Nov. 17 – 1:40 a.m. – Welcoming ceremony
T+ 30:33:00 – Nov. 17 – 2:00 a.m. – Post-docking press conference
Four astronauts will be flying aboard Resilience on Crew-1 – Mike Hopkins, Victor Glover, Soichi Noguchi, and Shannon Walker. More on each astronaut:
Mike Hopkins – Commander
Michael S. "Mike" Hopkins, born December 28, 1968, is a single-time Soyuz astronaut and a colonel in the United States Space Force. Mike flew on Soyuz TMA-10M in support of Expedition 37/38 aboard the ISS, with 166 days, 6 hours of time spent in space. In his time in the Air Force, he was a test pilot for the C-130 and C-17 aircrafts.
Victor Glover – Pilot
Victor J. "Vic" Glover, born April 30, 1976, is a rookie astronaut and a commander in the U.S. Navy. He will be the first African-American to stay on a long duration mission to the ISS as part of Crew-1 and Expedition 64/65. In the Navy, Vic flew F/A-18s.
Soichi Noguchi – Mission Specialist
Soichi Noguchi, born April 15, 1965, is a JAXA astronaut who flew once on the Shuttle aboard its return to flight after the Columbia disaster, STS-114, along with once on Soyuz mission TMA-17 in support of Expedition 22/23. He spent 177 days, 3 hours in space onboard Discovery and the ISS. Crew-1 will be his third spaceflight.
Shannon Walker – Mission Specialist
Shannon Walker, born June 4, 1965, is a single-time Soyuz astronaut and a former Space Shuttle flight controller, starting with STS-27. She has 163 days, 7 hours of time in space, all in support of ISS Expedition 24/25.