NASA's SLS Program prepares for re-start of SLS operations amid COVID-19
MAY 6, 2020- After temporarily pausing on-site work for the agency's Space Launch System heavy-lift rocket, NASA is now preparing to reopen the Marshall Spaceflight Center (MSFC), Stennis Space Center, and Michoud Assembly Facility alongside other agency centers and locations which are critical to the Artemis Program.
Artemis II and III SLS/Orion manufacturing and hardware processing and the rigorous Green Run test campaign for the Artemis I SLS rocket core are all taking place at these facilities, and the closure has been heavily impacted development timelines.
The Kennedy Space Center was not moved to Stage 4 of the response framework, the stage at which all facilities are closed, allowing NASA to continue work on the Mars Perseverance Rover and the Orion Spacecraft for Artemis I and II. Work on the Green Run is considered to be a "critical path" for the Artemis I schedule as any delays to the Green Run automatically delay the launch date in turn. This is due to the date being heavily dependent on when the core stage arrives at the Vehicle Assembly Building.
Prior to the outbreak forcing NASA to close down Stennis, the plan was to do the full duration static fire sometime in the July-August time frame. After the static fire, the core stage would be delivered to the Kennedy Space Center in October to be integrated with the twin five-segment solid rocket boosters in the December 2020-January 2021 time frame.
The five-segment boosters for the Artemis I mission were originally scheduled to arrive at Kennedy around May, to be stacked during the summer of this year, ahead of core stage arrival in November 11th (November 11th was the date that the Kennedy Space Center was expecting for core stage arrival). These boosters, despite being ready since 2018, have not been stacked yet as they have a one-year shelf life while stacked.
Due to the pause on the Green Run along with COVID-19 creating a rapidly evolving and fluid situation, the schedule has become very uncertain. Before the pause on operations, NASA completed a modal test of the core stage, where the vehicle was tested against a simulation of in-flight vibrations (the core stage was hit with a hammer). The next scheduled test was the vehicle power-on checks, which are now paused.
NASA is expecting to re-start SLS operations within the next few weeks and is no longer expecting a launch in the April-August 2021 timeframe but instead a launch date in November 2021. This is due to not only the multi-month pause but also the nature of the re-start process. NASA does not want to rush to fully resume operations. The re-start process will not immediately go straight to normal but instead slowly transition back to normal via this framework.
This means that when work is restarted, it will be a lot slower than before, until it finishes transitioning back to normal due to limited personnel being used.
For example, as a NASA source told Space Scout, the Artemis II Engine Section work area can accommodate 20 personnel across three levels at any time during normal operation. With the restrictions in place, only three people would be in each level (in total nine across all levels).
When NASA moved MSFC and SSC to Stage 4 of the response framework, it effectively shut down on-site operations within 3-4 weeks, although this was later extended. NASA and The Boeing Company are currently in daily talks to get production and testing back online, provided that they follow social distancing guidelines for health and safety.
According to the same NASA source, there is currently a proposal to start with a 2 phase re-start: Phase 1 will be limited personnel in order to reconfigure and get areas ready for work to resume, within social distancing guidelines. Phase 1 also allows time to procure the required PPE (Personal Protection Equipment). Phase 2 will bring the majority of people back to work as they try to work under the current situation. There are no confirmed dates as to when these phases will begin. Upper management is still working with NASA on this daily. Local and state issues are factors into the restart at Stennis and MAF.
Recently, NASA held a virtual town hall that was streamed on NASA TV in which NASA administrator Jim Bridenstine, alongside other NASA officials, discussed the return of on-site work to NASA centers, many of which are currently at Stage 4 and Stage 3. The start of the transition back to normal will begin with only mission-critical operations such as the SLS Green Run. NASA Associate Administrator Steve Jurczyk estimated that about 90% of NASA employees are currently working at home instead of on-site. At the virtual town hall, Jim Morhard, the deputy administrator of NASA, said "We are not rushing to open. We are rushing to plan." NASA is making steady progress on its journey to re-opening Marshall, Stennis, and other locations that are critical for the Artemis I mission to meet its schedule.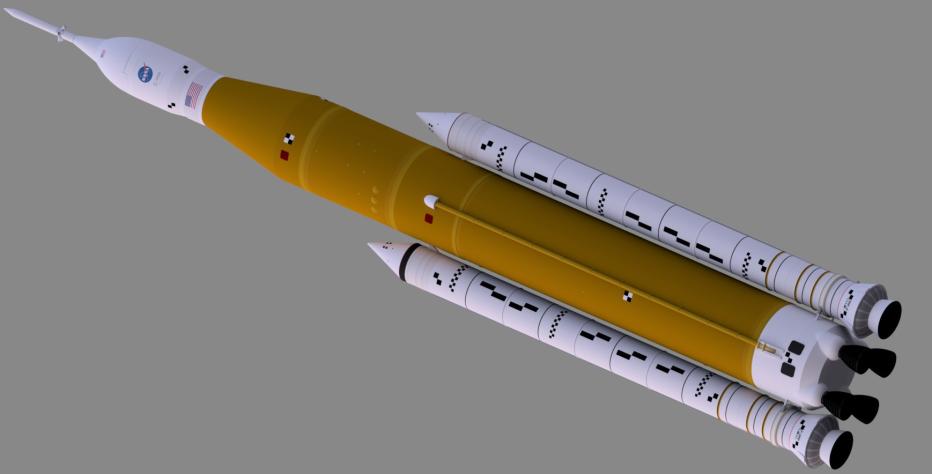 Currently scheduled for November 2021, the schedule for Artemis I is highly dependent on when NASA can go back to on-site work, along with the outcome of the Green Run test campaign. Will NASA be able to meet the launch date? There is no answer, as the situation is very fluid and could either go very well or go very poorly. Only time will tell.
Article by @StarshipTrooper.
Edits at 10:54 p.m. – Fixed a typo where the above image was captioned as SLS Block 1B.